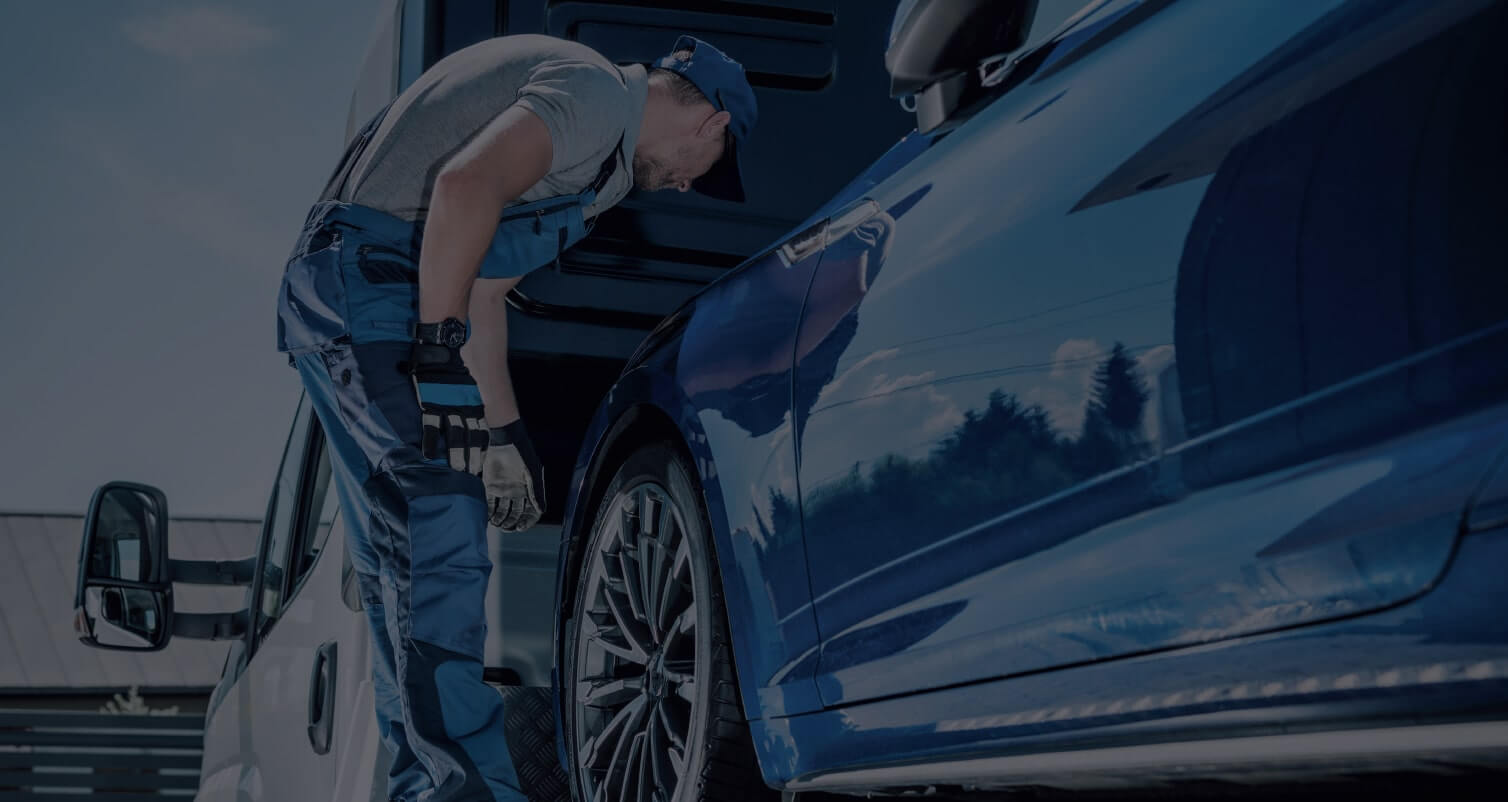 Get Offers

From hundreds of
Tow Trucks


Within 5 minutes!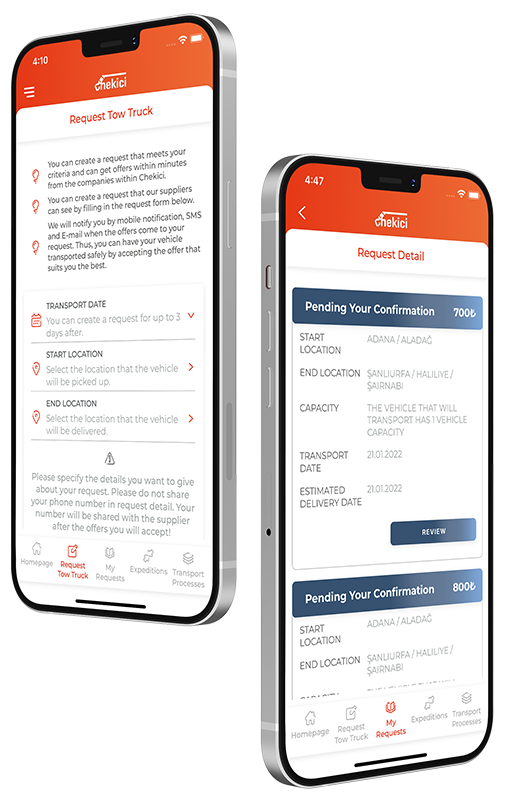 Auto Tow Truck

Create your request immediately and
get the service you want
by receiving hundreds of offers
from companies within Chekici
In 5 minutes
Privacy and Security
Chekici has adopted various privacy principles for your personal information and data security in order to protect your individual and corporate privacy and to ensure that you benefit from the technological infrastructure and system at the highest level. This privacy statement explains the policies and practices regarding the security and privacy of the personal information you provide in your transactions with chekici.com. These privacy principles have been determined to be implemented on the Chekici website (and all sub-websites) regarding data collection and/or use and are declared by us.
Chekici respects the privacy and security of its users' information, and in this respect, it does its best to take the necessary measures. By using the Chekici address or mobile application, you declare and undertake in advance that you will abide by the obligations and practices regarding confidentiality. In addition, you accept the collection and use of your personal information that you have provided to Chekici by Chekici, suppliers and/or intermediary institutions as specified in this Confidentiality Agreement.
By visiting Chekici or creating a request individually or on your behalf by Chekici, you expressly agree to the terms of use of this site, the privacy policy and all current laws, regulations and legislation related to the site. Confidentiality Agreement will be valid in all sections of the Website and Chekici mobile application. Chekici has the right to make corrections and updates in the 'Confidentiality Agreement' section at any time, without prior notice, in line with the feedback to be made to it through one of the contact addresses specified on the page. Chekici can update the 'Confidentiality Agreement' statements at any time. The user / member / visitor can reach these statements and be informed about new developments periodically.
We may access or disclose information about you, information about the content of your account and/or communications, for the following purposes:

Complying with the law or legal proceedings notified to us,
Investigating or confirming possible violations of the Terms of Use and Distance Sales Agreement, including using this service to participate in or assist in illegal activities,
Protecting the rights, property or safety of Chekici employees, customers or the public

All information collected by us for the following purposes is stored in a secure environment:

Processing your reservation and sale and managing your account;
Creating connection lists in order to make statistics about your transactions and to maintain our connection with you;
Gathering commercial statistics and analysis related to site usage, and
Authentication and registration creation.

We may use your personal information, which can be obtained through the website or mobile application, by using the website and mobile application, to inform you about other products or services provided by Chekici and its affiliated companies, partners and agencies, or to convey our current products, sales of our services and campaign announcements.
In order for Chekici to provide you with the best service, you must provide some personal information, including but not limited to your name, surname, identity document number, e-mail, telephone, which may vary depending on the product or service requested.
Chekici will never disclose to third parties any personal information and data transmitted to it electronically by its visitors or users through the website named chekici.com. These informations; will be used for identity verification and registration, performing reservation and sales transactions and making some statistics, and will be encrypted during transmission and protected by SSL technology. In order to benefit from SSL, your browser must support SSL and your SSL option must be activated. Data is protected by strict security and privacy standards, which are always essential to us, even after we receive it. The data you have entered is stored by us during your transactions and legal requirements.
Chekici may cooperate with many third party institutions and organizations in various ways in order to enhance the usability of the services it provides. This cooperation may happen with advertising, sponsorship, permission marketing, data sharing and other legal commercial means. Chekici declares and undertakes that it will carry out authorized communication / marketing as stipulated by the laws in its communication activities and not to communicate against the user's request, and to provide tools that will enable the user to exit the system free of charge and easily. If you want to unsubscribe from our daily e-bulletin list at any time, you can easily unsubscribe from the e-bulletin membership with a single click by clicking the 'Please click to unsubscribe from our e-bulletin list' link at the bottom of the e-mails we send.
The information that may be requested from users who respond to periodic or non-periodic surveys that may be organized by Chekici on the site can also be used by Chekici and its collaborating persons or institutions for direct marketing to these users, statistical analysis and creating a special database.
Chekici cannot be held responsible for the confidentiality of the said information if its users share their personal information on platforms accessible to other users. Users are responsible for any personal information they disclose on these platforms, and Chekici is not responsible for any damages arising from the disclosure of this information.
Chekici takes all necessary measures to ensure and maintain confidentiality, to prevent all or any part of confidential information from entering the public domain or unauthorized use or disclosure to a third party. hereby undertakes to receive and to show all the care that falls on it.
Customer information can only be disclosed to official authorities if this information is duly requested by the official authorities and in cases where it is obliged to make a statement to the official authorities in accordance with the provisions of the mandatory legislation in force. Only the Customer can access all the information that the Customer enters into the system, and only the Customer can change this information. It is not possible for anyone else to access and change this information.
Chekici may change the provisions of this privacy statement whenever it deems necessary, provided that it is published on the 'Confidentiality Agreement' page of the site. The privacy statement provisions that Chekici makes changes are deemed to have entered into force on the date they are published on the relevant page.
This Confidentiality Agreement is a whole together with the Terms of Use and should be interpreted together.
Thank you for your interest and trust in using the Website.
Chekici Contact Information
When the user wants to contact Chekici, he will be able to use the following ways.
| | |
| --- | --- |
| E-Mail | destek@chekici.com |
| Address: | CHEKICI LOJİSTİK BİLİŞİM SANAYİ VE TİCARET LİMİTED ŞİRKETİ İNÖNÜ MAH. MUAMMER AKSOY CAD. NİVO İSTANBUL A BLOK NO: 125 İÇ KAPI NO: 101 KÜÇÜKÇEKMECE/ İSTANBUL |
| Trade Registration Number: | 257018-5 |
| Tax Office: | HALKALI |
| Central Registration System Number: | 0612137644400001 |
Terms of Use
We know how important trust and privacy are to you.
​ Please read this page periodically when you visit Chekici or want to buy tow truck service. By visiting Chekici or purchasing the towing service, you expressly accept the terms of use of this site, the privacy policy and all current laws, regulations and legislation related to the site.
​
Definitions
​
| | |
| --- | --- |
| 'Chekici': | CHEKICI LOJİSTİK BİLİŞİM SANAYİ VE TİCARET LİMİTED ŞİRKETİ, www.chekici.com refers to all content including online towing service, Chekici online towing service services used in mobile phones and all kinds of similar electronic media. |
| 'User': | It refers to the person who visits Chekici and/or receives the towing service. |
| 'Service' | It refers to the user's purchase of towing service through Chekici. |
​
Chekici Terms of Use
When you visit Chekici's site, some general, non-personal information about your visit may be collected and recorded. This information may include the time and duration of your visit, the pages viewed on the site, and the site visited just before coming to our site. This information is only used to measure site activity and to generate ideas to improve our site. Our site is open to all visitors.
​
Personal Informations
Chekici aims to be a website that will enrich with the participation of its members and that offers a sharing and participating attractive service. In this regard, in order to get to know you and to follow your preferences, you may be asked to share personal information about yourself and your interests while registering on our site.
This information, which you will share with us by giving your consent if you wish, will only be shared with the institutions/companies from which you want to receive service, and will not be shared with any other person or company, provided that you receive the towing service. In addition, the information you share with Chekici will only be used to provide news and events related to your interests, and to inform you about the innovations and events on our site.
Sharing your personal information with us and becoming a member of our site will be done with your request and approval. If you wish, you can update your information on the site and revoke your e-mail communication confirmations. In every case we request information from you, we will clearly define the information we want you to provide, giving you the right to change or cancel this information and inform you how it will be used.
Change Rights
Chekici reserves the right to make changes to the terms of use and privacy policy at any time within the developing conditions. Chekici may make new additions to the Terms of Use at any time, including adding a service fee.
As soon as these additions, changes, arrangements, or cancellations are announced, they will be published on chekici.com, and notifications will be made by the most effective methods in line with the information provided by the User during registration.
For this reason, the information given during registration must be correct in order to notify the User of relevant developments, otherwise all responsibility will belong to the User. By using Chekici, the user is deemed to have accepted these possible changes and regulations.
Protection of Informations
Chekici does not host any personal information about you on its website. The information stored is purely statistical information and does not contain any personal information. All your personal information is stored in a secure area. ​
If a third party files a subpoena or other legal document requesting disclosure of your identity, every reasonable effort will be made to notify you using your most recent address in our files.
In this case, Chekici will not be responsible if your contact information in the records is not up-to-date or if we are unable to notify you in other ways. Chekici may, in the cases listed below, deviate from these provisions and disclose the information of the users to third parties. These situations are;
​
Law, Decree, Regulation etc. In cases where it is necessary to comply with the obligations imposed by the legal rules enacted and in force by the competent legal authorities,
Cases regarding the fulfillment of the requirements of the contracts between Chekici and its users and their implementation,
In cases where information about users is requested in line with an investigation or investigation conducted by authorized administrative and/or judicial authorities in accordance with the rules of law and procedure,
These are the cases where it is necessary to provide information in order to protect the rights or security of the users.
In the event of bankruptcy, appointment of trustee or other transfer of ownership, your contact information will be transferred to the successor.
Provided Contents and Other Website Links
Some parts of the content offered by Chekici are provided by third parties. In cases where the thought, advice, service, suggestion and other content specified on the site are third parties, Chekici is not responsible for the integrity, usefulness and accuracy of this information. ​
In addition, this site may contain links to other sites. Chekici may provide links to other sites within the site. Chekici may publish advertisements and/or application forms for various services of contracted third parties, and may direct users to the site of the advertiser or third parties through these forms and advertisements.
Chekici is not responsible for the security of the user's passwords and accounts on the third party sites to which it provides a link. Chekici is not responsible for the privacy practices, contents of other websites accessed through this link, or the privacy policies and practices of third parties.
Related Institutions, Cancellations, Postponements and Refunds
Chekici does not give any specific guarantee regarding the service it provides, including the guarantee of the manufacturing company, the guarantee of average quality, the guarantee of loading, storage, transportation, post-transportation. The site and its content are provided on an 'as is' basis.
For various reasons, the service may not be provided to the user or be delayed. Chekici is not responsible for any cancellation of the service. In such cases, you should contact Chekici to get detailed information.
Chekici and Chekici's partners, employees or content providers cannot be held responsible for possible errors and unintentional omissions, faults or lack of knowledge, interruption or delay incurred by the user, regardless of the reason and duration. All these organizations or persons do not accept liability for third party claims for damages or losses, punitive damages or indirect damages.
User Relationships
Chekici users have the option to get more information and opt out of membership. KRegistered users can change or update their membership preferences or membership information at any time. Users can also close their user accounts at any time.
Chekici, does not accept any responsibility for error, cancellation or delay of any expedition, communication interruption, computer virus, any damage or loss resulting from loading, storage, transportation.
The user agrees that Chekici cannot be held responsible for the illegal and offensive behavior and insults of other users. Although Chekici reserves the right to cancel the membership of users who do not comply with the general moral and social rules, the User is responsible for any damage that may occur from such relationships. The Chekici membership system is for individual use. Users who are understood to have abused this system for commercial use will be warned and their points will be deleted, and their membership will be terminated if repeated. ​
Contact
When the user wants to contact Chekici, he will be able to use the following ways.
​
| | |
| --- | --- |
| E-Mail: | destek@chekici.com |
| Address: | CHEKICI LOJİSTİK BİLİŞİM SANAYİ VE TİCARET LİMİTED ŞİRKETİ İNÖNÜ MAH. MUAMMER AKSOY CAD. NİVO İSTANBUL A BLOK NO: 125 İÇ KAPI NO: 101 KÜÇÜKÇEKMECE/ İSTANBUL |
| Trade Registration Number: | 257018-5 |
| Tax Office: | HALKALI |
| Central Registration System Number: | 0612137644400001 |
​
Intellectual Property Rights
Chekici contains information and materials, some of which belong to itself and some of which belong to third parties and the subject of copyright, including text, photographs, graphics, sound and music. CChekici owns the copyright to this content, information and materials as a work/compilation. The user accepts that he has the right to copy for personal use only and cannot make changes, copy, reproduce, publish, sell or help illegal use of the content and materials without the written consent of Chekici.
At the same time, the User agrees not to use any tool, software or method to interfere with or attempt to interfere with the operation of Chekici. Chekici reserves the right to use legal sanctions against any unauthorized intervention and/or application.
By using the site, the user accepts that if any conflict arises regarding the site, this conflict will be subject to the laws of the Republic of Turkey and will be resolved in accordance with these laws. Chekici is constantly researching the latest and best measures and trying to implement effective solutions in order to keep the security of its Users at the highest level. Our aim is to provide you with quality service in the best and safest way. Best Regards.
MEMBERSHIP CONTRACT (Real and Legal Persons)
TERMS OF USE
Please read the terms written below to use the domain website www.chekici.com. By visiting the www.chekici.com website and/or using its mobile applications (the website and/or mobile applications will hereinafter be referred to as the "Portal") and/or as a "Member", you acknowledge that you have read these "Terms of Use" and fully understand its content. , You accept, declare and undertake that you unconditionally accept all the matters specified in the "Terms of Use" and in the "Portal" and that you will not put forward any objections or defenses regarding all matters specified in the "Portal". Please stop using the "Portal", if you do not accept these terms.

The services offered in the "Portal" that operates under CHEKİCİ LOJİSTİK BİLİŞİM SANAYİ VE TİCARET LİMİTED ŞİRKETİ (hereinafter referred to as "CHEKICI"), which resides at the address of "İNÖNÜ MAH. MUAMMER AKSOY CAD. NİVO İSTANBUL A BLOK NO: 125 İÇ KAPI NO: 101 KÜÇÜKÇEKMECE/ İSTANBUL" are provided by "CHEKICI".
"CHEKİCİ" may change these "Terms of Use", any information and "Content" in the "Portal" at any time without any notice or notification to the "USER". These changes will be published on "www.chekici.com" periodically and will be valid on the date of publication. Every natural or legal person who makes use of the "Portal" services free of charge or accesses the "Portal" in any way free of charge, until otherwise stated, is deemed to have accepted the "Terms of Use" and any changes made by "CHEKİCİ" to these "Terms of Use". These "Terms of Use" are published on the www.chekici.com website; Access is made possible by every natural or legal person using the "Portal".

DEFINITIONS
"Portal" : The website where "CHEKİCİ" offers its "Services", consisting of the domain name www.chekici.com and the subdomains connected to this domain name.

"User" : Every natural or legal person who have access to the "Portal"

"Member" : The "User" who is a member of the "Portal" and benefits from the services provided inside the "Portal" within the conditions specified in this contract.

"Membership" : It is the status gained by the "User" who wants to become a "Member", by filling in the membership form on the "Portal" with correct and real information, and by the approval and notification of the identity information given by "CHEKİCİ". It is not possible to have the right and authority to become a "Member" before the membership process is completed. "Membership" rights and obligations are those rights and obligations that belong to the applicant and cannot be partially or wholly transferred to any third party. "Membership" application may be rejected by "CHEKİCİ" without giving any reason or additional terms and conditions may be requested. "CHEKİCİ" may terminate the "Membership" status of the "Member" if it deems it necessary, and may not accept the "Membership" application to be made later.

"CHEKİCİ Membership Account" : The Member undertakes to carry out the necessary works and transactions to benefit from the services offered in the "Portal", to make a request to "CHEKİCİ" regarding the "Membership", to update the membership information, to view the information about the services offered, to be determined by himself and to be used exclusively by him. that heThe Member undertakes to carry out the necessary works and transactions to benefit from the services offered in the "Portal", to make a request to "CHEKİCİ" regarding the "Membership", to update the membership information, to view the information about the services offered, to be determined by himself and to be used exclusively by him and all of the web pages specific to the "Member" accessed through the "Portal" with a "password" and "username"

"CHEKİCİ Services" ("Service") : "These are the applications offered by "CHEKİCİ" in the "Portal" in order to enable the "Member" to perform the works and transactions defined in this contract. "CHEKİCİ" may make changes and/or adaptations to the "Services" offered in the "Portal" at any time. The rules and conditions that the "Member" is obliged to comply with regarding the changes and/or adaptations made are announced to the "Member" from the "Portal", and the announced terms and conditions come into force on the date they are published on the "Portal".

"Content" : All kinds of accessible expedition requests, expeditions, information, documents, visual, written and auditory images, texts, files, pictures, videos, numbers, etc. published on the "Portal"

"CHEKİCİ Interface" : Content created by CHEKİCİ and "Members" (Transportation Requests of Vehicles or Vehicles and Transportation Routes Opened by Suppliers) can be viewed by "Users" and queried from "CHEKİCİ Database"; Websites that give commands to the computer program to carry out all kinds of transactions that can be made on the "Portal" within the designs protected under the Law on Intellectual and Artistic Works No. 5846 and whose intellectual rights belong to "CHEKİCİ".

"CHEKİCİ Database" : It is the database protected in accordance with the Law No. 5846 on Intellectual and Artistic Works belonging to "CHEKİCİ", where the contents accessed within the "Portal" are stored, classified, queried and accessed.

"EXPEDITION REQUEST" : It is the user's request for the transportation of all kinds of motorized and non-motorized land or sea vehicles on a route determined by him, on the date or in the range of dates determined by him.

"CREATING EXPEDITION" : TIt is the delivery route determined by the supplier, indicating the carrying capacity of the vehicle and announcing it to the users via the portal.

"DOCUMENT" : These are the documents belonging to the members on the portal as suppliers. (Transport Insurance, Tax Sheet etc.)
CHEKİCİ SERVICES

"CHEKİCİ", ensures that the contents uploaded to the "CHEKİCİ Database" by the Members can be viewed by the Suppliers through the "CHEKİCİ Database" using interfaces, and the contents uploaded to the Database by the Suppliers can be viewed by the members through the "CHEKİCİ Database" using interfaces.
"CHEKİCİ", "CHEKİCİ", provides various types of listing services in the "Portal", prioritizing the display of opened expeditions in order to enable Members to access Supplier expeditions more easily.
"CHEKİCİ" does not perform the transportation/transport/transport service itself. It enables the suppliers to see the expedition request created by the member on chekici.com or the chekici mobile application when needed, and to make a price offer for the expedition request.
"CHEKİCİ" enables member suppliers to create expeditions through the portal.
"CHEKİCİ" provides reporting services under various categories for the transactions performed within the "Portal" and the number of views.
""CHEKİCİ" reserves the right to add new services to the services it provides within the "Portal", to change the scope and delivery conditions of the existing services and the "Content" accessed within the "Portal" at any time, to close and delete the access of third parties. "CHEKİCİ" may use this right in any way it wishes, without giving any notice.

TERMS AND OBLIGATIONS REGARDING THE USE OF THE CHEKİCİ PORTAL

CHEKİCİ is in no way a guarantor or responsible for the transportation of one or more motorized or non-motorized land or sea vehicles arising from instant needs or to be realized in a planned manner. The purpose of Chekici is to transport motorized or non-motorized land or sea vehicles between the routes it has determined by land vehicles that carry out single or multiple transfer operations, which are called as tractors, and the transportation of motorized or non-motorized land or sea vehicles on the road by single or multiple transfer methods called towing.
The MEMBER has the right to accept or reject the price offers from the suppliers for the expedition request it has created. Chekici is not responsible for the price offers sent to the member.
The MEMBER, is obliged to request the necessary documents (insurance, tax plate, etc.) from the supplier with which it has agreed or is about to agree, before the transportation of one or more motorized or non-motorized land and sea vehicles arising from instant needs or to be realized in a planned manner. Chekici is not responsible for the supply and request of this information and documents, whether they are up-to-date, valid or fake.
CHEKİCİ cannot direct any real person or legal member who makes a price offer to the member during the transportation of one or more motorized or non-motorized land and sea vehicles arising from instant needs or to be realized in a planned manner.
The MEMBER, during the transportation of one or more motor or non-motorized land and sea vehicles arising from instant needs or to be realized in a planned manner, besides loading and unloading of the vehicle, parking of the vehicle or vehicles, etc. accepts that CHEKİCİ is not legally or materially responsible for any material or moral damage (including theft or loss) that may arise at any stage, including storage in areas, delay in transportation or transfer.
If the member wishes to travel in the vehicle or vehicle to which he/she will have transported, with or without a vehicle (Female-Male-Child) owned or transported by his/her own vehicle, this situation is entirely up to the initiative between the supplier and the member. Chekici does not accept any responsibility at this point. Damage-damage-loss-theft etc. of passengers, goods or any commodity in motor-non-motorized land or sea vehicles that the member will have transported. In the event of a situation, the responsibility and initiative belongs entirely to the supplier.
The member and supplier are responsible for the existence of any illegal commodities that can be found in any motor or non-motorized land or sea vehicle that the member will have transported. Chekici is not responsible for these and similar situations. The member and the supplier agree that Chekici is not legally responsible in this and similar cases.
CHEKİCİ does not charge any commission, membership fee from the user or supplier member. The right to demand a fee belongs to CHEKİCİ.
"Users" can take action on the "Portal" for lawful purposes. The legal and criminal responsibility of "Users" in every transaction and action within the "Portal" will belong to them. "User" accepts, declares and undertakes that "CHEKİCİ" does not bear any responsibility regarding such legal and penal obligations.
"Portal" works on the basis of displaying "Content" uploaded to "CHEKİCİ Database" by "Members". "CHEKİCİ" does not guarantee the accuracy, authenticity, security and legality of the "Content" viewed by the "Users" under any circumstances. The "User"s accept and declare that "CHEKİCİ" has no responsibility for the said announcement and "Content", and that "CHEKİCİ" will not be liable for any compensation for any damages that may arise.
"USER" shall not reproduce, copy, distribute, process any kind of pictures, texts, audiovisual images, video clips, files, databases, catalogs and lists contained within the "PORTAL", and shall not engage in any commercial activity by performing such actions; accepts and undertakes that it will not directly and/or indirectly engage in acts and transactions that constitute unfair competition.
Users "within the "Portal" will not engage in activities that will lead to unfair competition in accordance with the provisions of the Turkish Commercial Code, that "CHEKİCİ" and third parties will not carry out acts that will undermine the personal and commercial reputation, violate or attack personal rights, comply with the legislation, public order and general moral rules. It accepts and undertakes that it will act in accordance with the legislation, will take the measures and procedures required by the legislation, and will not engage in illegal, criminal, irritating, damaging personal rights, infringing intellectual rights, copyrights, trademark rights and property rights.
"Users" are obliged to use the information they access within the "Portal" only for the purpose of the "Member" or "CHEKİCİ" who discloses this information, and to display them for non-commercial purposes. The contact information entered by the supplier who opened the voyage on the portal can be used to get information about the voyage. Personal data and/or special quality personal data belonging to the advertiser or third parties, which are protected under the Law on the Protection of Personal Data No. 6698, which may be included in the advertisement, cannot be used for any other purpose, copied, directly or indirectly published in other channels, processed, distributed, It cannot be transferred to other databases and opened to third parties' access and use.
"CHEKİCİ" has a "Location Provider Activity Certificate" in accordance with Law No. 5651. In order to comply with the obligations imposed on the "Location Providers" in accordance with the Law No. 5651 and the relevant legislation, it records and stores the records of the "Users" on the "Portal" within the legal period, as specified in the relevant legislation.
"CHEKİCİ" may use, process, share, disclose, classify and store the "User" information on a database, use it for promotional and informative communication activities, marketing activities and for statistical analysis. "CHEKİCİ" at the same time; It may also use information such as the user's IP address, which parts of the "Portal" he has visited, domain type, browser type, date and time, for statistical evaluation and to provide personalized services and offers. "CHEKİCİ" may transfer User information to the companies it cooperates with in order to conduct research to improve processes, create a database and conduct market research, and User information may be processed by these companies, limited to the above-mentioned purposes.
CHEKİCİ, for the purpose of online behavioral advertising and marketing, associating the behavior of the user on the site with a cookie in the browser and defining remarketing lists based on metrics such as the number of pages viewed, visit time and number of target completions, using marketing automation tools and user-specific has the right to forward messages/offers and suggestions. It can then show this user targeted advertising content on the site or other sites in the Display Network, based on the interests of the users. In addition, Google may place cookies on Google USERS' browsers or read the cookies contained therein or use web beacons to collect information during the redirection of AFS advertisements to CHEKİCİ.
Access to the database where the content accessed and/or viewed through the "Portal" is stored only for the purpose of displaying the relevant content and/or by third parties within the framework of the "Terms of Use" of "CHEKİCİ" is legal. Accesses other than this are against the law; "CHEKİCİ's rights to all kinds of demands, lawsuits and proceedings are reserved.
"CHEKİCİ" allows "to view the content of the expedition requests, to request the expeditions opened by the suppliers and to use the "CHEKİCİ Interface", partial or complete copying of flight requests or opened flights, customer information, designs, code and software, information in the database, publishing them directly or indirectly in other channels, compiling, processing, changing, transferring them to other databases, accessing third parties from this database. and the processing of similar acts, including making it available for use and linking to the advertisements on "CHEKİCİ", is not allowed and consented by "CHEKİCİ". Such acts are against the law; "CHEKİCİ's claims, lawsuits and follow-up rights are reserved.
Using the whole or any part of the "Portal" for the purpose of disrupting, changing, reverse engineering, trying to break API protocols by reverse engineering method or any other method, and such as API key, API secret key, request headers, client authentication algorithm. accessing the parameters without permission or sharing these parameters with third parties without permission, trying to access the "Site" in a way that hinders, disrupts or interferes with the communication or technical systems of the "Portal", Automatic program, robot, spider, web crawler on the site , spider, data mining, data crawling, etc. "screen scraping" software or systems, the use of automatic tools or manual processes, unauthorized access to other users' data or software, bot operation as a result of determinations according to various criteria, DDOS attacks and all kinds of other systems to destroy or change all or part of existing systems. In case of such attacks against or destroying the performance of the system and any other unlawful use, such uses will be prevented at the discretion of CHEKİCİ. Even if there are no such uses, the use of the Portal can be allowed only after the user logs in with his/her user name and password, when CHEKİCİ deems it necessary. It is illegal to use the "Site" and the content on the "Portal" outside the usage limits determined by the "Terms of Use"; "CHEKİCİ" reserves all rights of claim, lawsuit and follow-up. In case of detection of illegal use of these terms and conditions; "CHEKİCİ" has the right to notify the "User" to the competent authorities. The "User" accepts that he/she is personally responsible for the damages and claims resulting from such uses.
The "User" accepts and undertakes that "CHEKİCİ" cannot be held responsible for any direct or indirect damages that may occur in case of interruption of the service provided on the "Portal", disruptions in information transmission, delays, failures or data loss.

INTELLECTUAL PROPERTY RIGHTS
The information accessed within this "Portal" or provided by users in accordance with the law and all elements (all) of this "Portal" (but not limited to "CHEKİCİ Database", "CHEKİCİ Interface", design, text, image, html code and other codes). collectively referred to as "the copyrighted works of CHEKİCİ") belong to "CHEKİCİ" and or have been taken under license from a third party by "CHEKİCİ". "Users" do not have the right to resell, process, copy, share, distribute, display or allow anyone else to access or use the services of "CHEKİCİ", "CHEKİCİ" services, "CHEKİCİ" information and "CHEKİCİ"'s copyrighted works. Except for the cases expressly permitted by "CHEKİCİ" within the scope of these "Site Terms of Use", "CHEKİCİ" cannot reproduce, process, distribute or make derivative works of copyrighted works.

In cases where "CHEKİCİ" is not expressly authorized within these "Terms of Use", "CHEKİCİ"; "CHEKİCİ" services, "CHEKİCİ" information, "CHEKİCİ" copyrighted works, "CHEKİCİ" trademarks, "CHEKİCİ" commercial view or other assets and information provided through this site reserves all rights.
CHANGES IN TERMS OF USE
"CHEKİCİ" can unilaterally change these "Terms of Use" at any time by declaring it on the "Portal". The amended provisions of these "Terms of Use" will come into force on the date they are announced. These "Terms of Use" cannot be changed by unilateral statements of the "User".
FORCE MAJEURE
In all cases deemed force majeure by law, "CHEKİCİ" will not be liable for any compensation in case of late performance, incomplete performance or non-performance. "Force majeure" shall be interpreted as events beyond the reasonable control of the relevant party and which "CHEKİCİ" could not prevent despite due diligence, including but not limited to natural disasters, wars, fires, strikes, riots, riots, bad weather conditions, infrastructure and internet failures. , system improvement or renewal works, and any malfunctions or power outages that may occur due to this are among the force majeure situations.
LAW AND AUTHORITY TO BE APPLIED
In the application and interpretation of these "Terms of Use" and in the management of legal relations arising under these "Terms of Use", Turkish Law will be applied, excluding the Turkish conflict of laws rules. Istanbul Central (Çağlayan) Courts and Enforcement Offices are authorized in the settlement of all kinds of disputes that arise or may arise due to these "Terms of Use".
ENFORCEMENT AND ACCEPTANCE
These "Terms of Use" shall enter into force on the date of publication by "CHEKİCİ" on the "Portal". "Users" accept these "Terms of Use" and the changes made over time by using the "Portal".